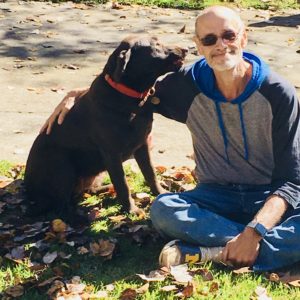 Hello, my name is Randall H. Lahaie and I am the one in charge of Lake Country Labrador Retrievers along with my daughter-in-law Julien Lahaie.
I, Randall H. Lahaie am the one who most of you will be in contact with throughout your time with us. I handle most of the work when it comes to the business however I am training Julien to take over the hobby breeding business when I retire. Julien makes sure our website is up to date and helps create new content for the website, takes photo's and videos of the puppies and the dogs and helps out with the care of the dogs and the puppies when they are born.
I started hobby breeding in 2015 and have learned a lot during the last 6 years. Some breeders have been around for 15+ years) however I am constantly and consistently learning on a daily basis and soaking up as much knowledge as I can. I do all the necessary health clearances on all my dogs which include OFA /Penn hip for hips & elbows, OFA eyes, EIC, CNM, PRA, D locus, and other genetic test. Our goal here at Lake Country Labrador Retrievers is to provide you and your family with intelligent, friendly, trainable, and lovable lifelong pets and companions that will provide you with many years of love and joy.
When not breeding and training my dogs, I am a full-time grandpa to my 3 granddaughters and 3 grandsons and a avid Michigan Wolverine fan. All of our puppies are playful and highly trainable, you'll find our dogs a great addition to your family. Add joy to your home by purchasing a Labrador retriever puppy from us. See the individual dog pages for more information.
For excellent companions, look no further than our strong, sociable, and intelligent Labradors. They are non-aggressive, making them family orientated. They can weigh between 60-100 pounds, with an average of 75-80 pounds. Their average lifespan is 10-15 years
Call: 770-917-0504