Her registered name is THE DUCHESS AT OLD HOUSE but we just call her by her call name Duchess because it is just way easier then using her full registered name. We are sure you want the "skinny" on her so without further ado here is some information on her:
Whelped on May 12th 2016, Duchess comes from a Multi-Generational line of junior, senior and master hunting retrievers on her sires side and her dam is a junior hunter as well. Her sire is Barnes' Taking A Chance SH her dam is Coco Channel XXX JH(For more information on her pedigree please see a generational list of it below which goes back four generations the included certificate below). She is a 7 year old American Chocolate Labrador Retriever who currently weighs 65 -70 pounds and if you can't tell from the stunning photos of her included below she is one beautiful dog. She has underwent basic obedience training and understands simple commands like "sit".
All though we just got Duchess fairly 5 years ago we believe that she is quite intelligent, always knowing when it's dinner time and where exactly she needs to go. You can literally let her out of her fenced area around dinnertime and she will run to the door that leads to her kennel and wait there for you to open the door and then run exactly to the kennel to which we have designated for her. When we first got her she was very shy and reserved but given a little time she quickly became everyones best friend. Another interesting thing about her is her unique bark which sounds like oddly similar to a chirping sound. She is so good around young children.
We think she is great although we might be a bit biased because she is now ours so we think it would do wonders for everyone to hear from the breeder who raised her up until this point so without further ado here it is:
"Duchess is our sweet girl from our enthusiastic retrieving machine, Coco. She is a real beauty, has a nice dark coat, and loves to retrieve just like her mom does! She also will yield to another in the field, which is a good quality to have when hunting with others. She has a muscular build, loves to sit and be petted, to play kick and absolutely loves playing in water!" Mary Beth
To date Duchess has whelped only one litter which yielded all beautiful chocolate puppies. Her puppies do not disappoint and are absolutely stunning. She is an amazing and wonderful dog.
She is PennHIP certified which for those not familiar with PennHIP, PennHIP is a multifaceted radiographic screening method for hip evaluation. The technique assesses the quality of the canine hip and quantitatively measures canine hip joint laxity. The PennHIP method of evaluation is more accurate than the current OFA standard in its ability to predict the onset of osteoarthritis (OA). Osteoarthritis, also known as degenerative joint disease (DJD), is the hallmark of hip dysplasia (HD). One of the advantages of PennHIP over OFA is that they can be tested as early as sixteen weeks of age, whereas with OFA they have to be two years old to do the same.
We look forward to the amazing litters that she will produce in the future and we currently have plans to breed her within the next couple of months with Shadow. Next year we plan on breeding Duchess again with Shadow and Dreamcatcher.We expect she will produce some very high quality Chocolate & Black Labrador Retriever puppies which we hope to be able to deliver to you all soon.
Please join us in welcoming Duchess to the Lake Country Labrador Retriever family and stay tuned for your chance to get one of the amazing puppies she will whelp in the near future!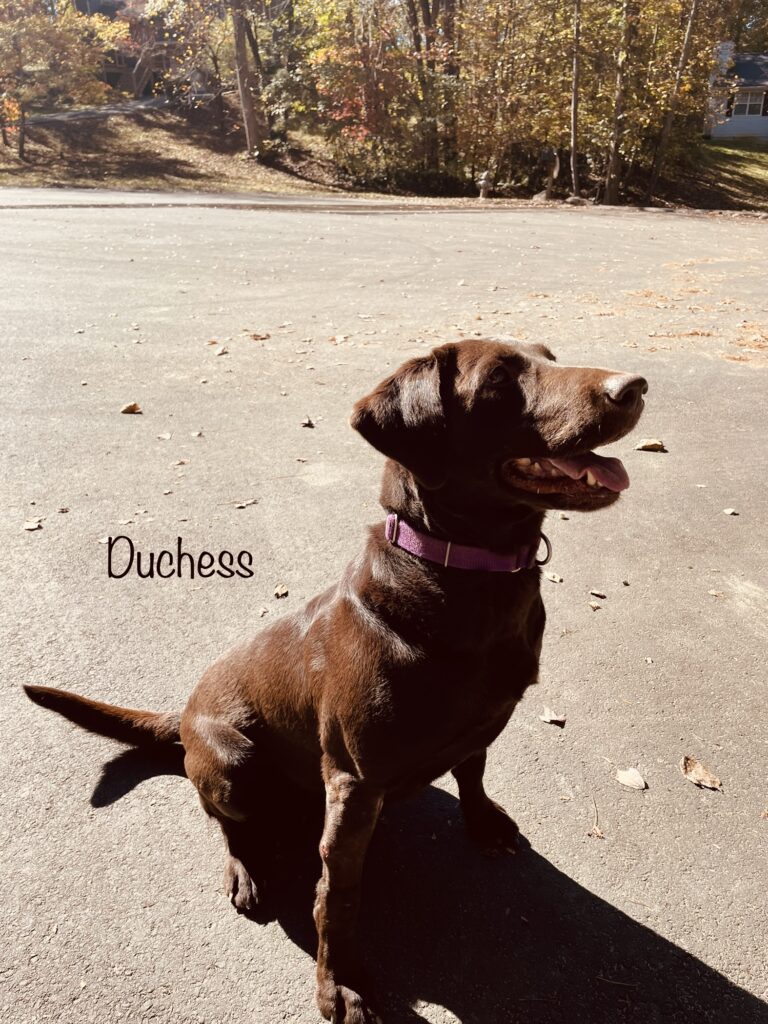 Duchess's Pedigree: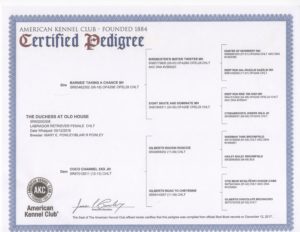 Duchess's OFA Eye Certification & AKC Registration: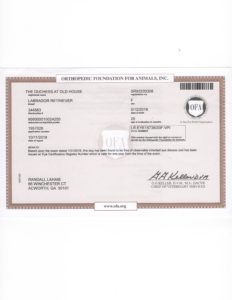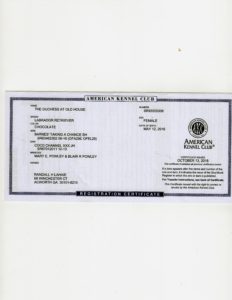 Duchess's PennHip certification: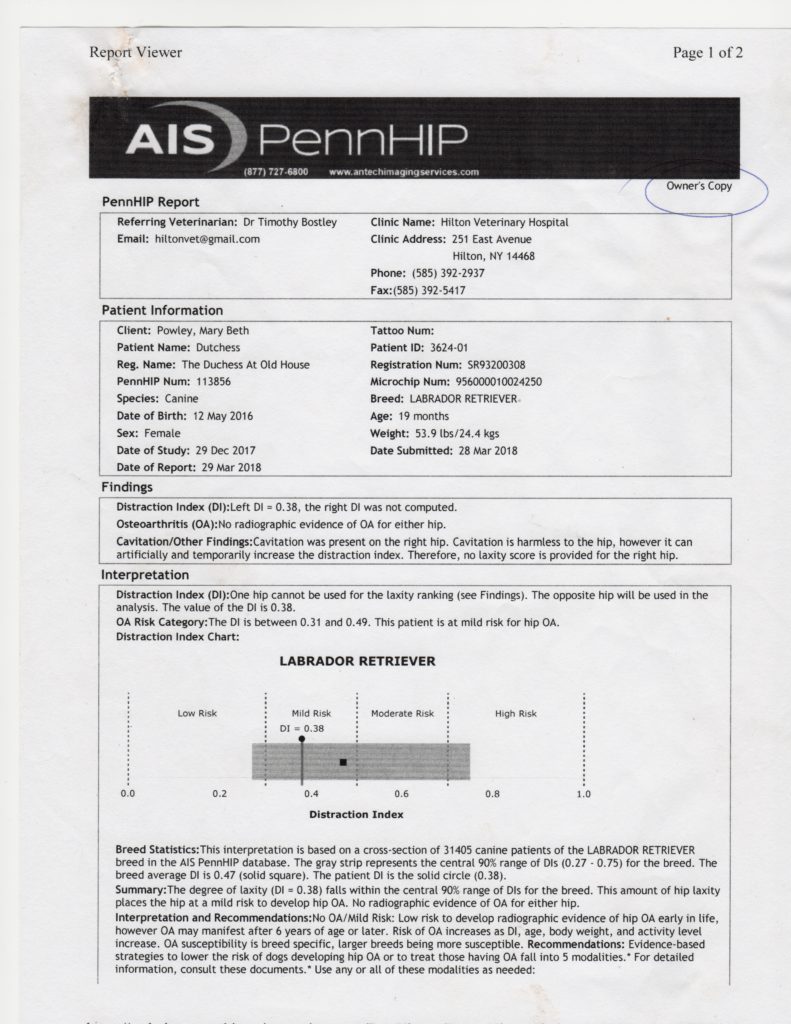 Duchess's Genetic Testing Results: